Italian pork reared in the semi-wild
Casentino Grey Pork comes, as its name says, from the Casentino valleys. Casentino grey pigs are a crossbreed between white pigs (Landrance or Large White breeds) and ancient local breeds from Central Italy, such as Cinta Senese or Mora Romagnola.
They are reared in a semi-wild state, meaning that pigs are free to move around large areas and graze naturally or eat what they find in the woods, such as chestnuts and acorns. When they are reared in a semi-wild state, they are also fed barley, field beans and corn - 100% natural feeds.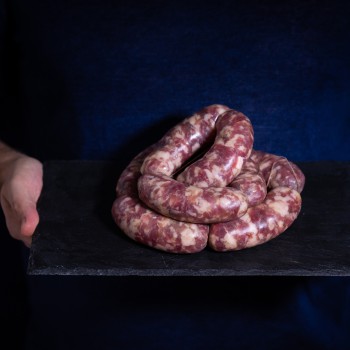 This Tuscan sausage is made the Casentino way: it is rustic, fleshy, tasty and its meat and fat content is perfectly balanced. These incredible sausages are free of preservatives and allergens and are hand-made by the crafty hands of master butchers who breed completely free-range pigs. Try to grill them and you will taste how excellent they are! A pork that was born and raised in the wild only ate what the forest, namely the Casentineso Forests, had to offer. It was "bred" freely in a natural and uncontaminated environment. That's why its meat has such a unique taste.Which is the other distinctive feature of the Casentino grey pork? It is a crossbreed between the white pork and the Cinta Senese pig, a refined native breed of Tuscany. This marriage between breeds gave the Casentino grey pork its perfect fat percentage. ​​​​​​​ We like to eat these sausages with: Risotto Fresh Pasta Sarconi Beans PGI
12,90€


Interesting facts
Food pairings
Interesting facts
Artisan skills
Needless to say, the meat of this pig is a lot tastier and healthier than any other pork that you can find on the market. I remember that a Facebook user once replied to one of our posts, saying that the Casentino grey pork sausages were too expensive. Such thoughtless words!
The work of a breeder rearing and slaughtering pigs in a semi-wild state matches the work of an artisan. Time follows its natural course, without any of the constraints imposed by industrial production. Only adult animals are slaughtered, once they have reached a heavy weight - usually between 120 and 160 kilograms. In order to reach this weight, pigs must be fed, looked after and tended to, and plenty of patience is required.
The result of this whole process is a unique, one-of-a-kind product, as genuine as it gets; such a product cannot - and must not - cost as little as an industrial sausage filled with colouring agents, which, when you put it on pizza, turns the mozzarella pink.
Healthy Italian meat, made the old-fashioned way
Yes, Casentino grey pork steaks and cold cuts do not contain any colouring agents, preservatives or chemical additives of any kind. It wouldn't make sense, right? Antibiotics are also forbidden. That's how our friends of the company 'I Commensali' work. They have learnt the art of rearing and slaughtering and now they commit themselves completely to these pigs.
This meat was part of our childhood; Casentino grey pork is a common ingredient in the cuisine of our valleys. Our great-grandparents used to rear these animals and now we can taste these lost flavours once again, thanks to the work of breeders such as Massi and 'I Commensali'.
This meat is unlike anything else that you may find in the supermarket. Sausages are processed the old-fashioned way, with coarsely-minced meat and fat. Steaks are enveloped by a three-centimetre layer of delicious fat, which you won't find in the meat of intensively bred pigs. Have you ever seen pork loin slices packaged in a polystyrene tray with a layer of fat thicker than 2mm? 
Natural farming
We are currently talking a lot about the impact of intensive breeding on the environment and climate; rearing wild pigs has zero environmental impact. Casentino grey pigs live in their natural habitat, mainly feeding on what nature gives them and moving freely around fields which are a lot bigger than those of a standard farm, where the cohabitation between animals is very polluting and the slurry management is completely different.
It is this type of rearing which makes this incredible Italian meat truly unique. Casentino grey pigs must be free to rout around in the woods, to move and to run around the pastures. This lifestyle, along with the particular climate of the National Park of the Casentinesi Forests, results in perfectly balanced and flavourful fat and muscle content.
Food pairings
Casentino grey pork in the kitchen
In Tuscany we love eating cold cuts as starters or as sandwich filling, together with a nice glass of red wine. Casentino grey pork cold cuts are one of the best Tuscan specialties, in particular the salami - completely additive and preservative free - and the incredible dry-cured ham, on a par with the renowned Spanish jamón de bellota.
However, the Casentino grey pork fresh meat will leave you utterly speechless; it has a unique flavour, perfect for the grill. Capocollo (pork neck), sausages, steaks; their delicious flavourful fat sizzling on the grill melts and gives a genuine and unique flavour to the meat - as tasty as the amazing Florentine steak.

Try the Casentino grey pork with: