Tiny, but have an intense flavour
Capers are a common ingredient in the Mediterranean diet. Their origin dates way back and they're even mentioned in the Bible and in Aristotle's writings. 
You have surely eaten them in a rice salad or in pasta Puttanesca, or even in countless sauces and dips, from Vitel tonné to Pesto alla Trapanese. However, do we really know all about them? 
Capers from Pantelleria and extra virgin olive oil – that's all this little jar contains. However, you can taste so much more: the passion for the territory and the respect for raw materials are the main ingredients of this product. Capers from Pantelleria are the best in the world, but it's important to know how to handle them. La Nicchia, a farm and caper factory founded in 1949, invests in the territory in order to promote the island's specialties. They select only the best raw materials that are processed in the simplest way to respect their uniqueness. Stock up on these capers to have a flavour-packed pantry. These capers taste amazing in pasta salads, on bruschetta or as a finishing touch on veggies; they're also ideal to make tapenade.
8,90€
PGI Capers from Pantelleria are one of our country's best delicacies. Pantelleria offers a volcanic soil, an arid climate and a merciless sun, but that's how capers like it! The Protected Designation of Origin label guarantees that harvest is carried out exclusively by hand and that the salting process complies with artisan techniques. Capers from Pantelleria are the best in the world, but it's important to know how to handle them. La Nicchia, a farm and caper factory founded in 1949, invests in the territory in order to promote the island's specialties. They select only the best raw materials that are processed in the simplest way to respect their uniqueness. You can instantly taste the passion they pour into their work. These capers have an outstanding flavour which is ideal to make sauces to serve with meat and fish as well as pasta sauces and condiments.
8,90€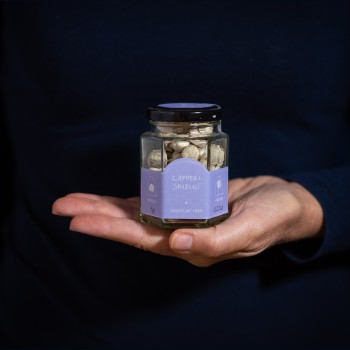 What happens when artisan traditions are combined with the most cutting-edge manufacturing processes? Out-of-this-world products are born, such as these capers that can turn each appetizer into a new flavour experience. They're addictive and their crumbliness is truly astonishing.  The consistency of capers has completely changed, while the flavour stayed the same, i.e., the signature flavour of the best capers from Pantelleria. Capers lose all their water content during the freeze-drying process, thus significantly lengthening their shelf life and becoming extremely light. These capers could travel in a space ship! Houston, we have a problem! These capers are so delicious, we just can't stop eating them!
12,90€


Interesting facts
Here are some interesting facts about capers, just to be sure.
Capers are buds
Capers are flower buds, that is the flower before blooming, belonging to the Capparis Spinosa plant. One needs a trained eye and quick reflexes to harvest them. As a matter of fact, harvest time, i.e., the timespan between the bud formation and flowering, is very short and if you wait too long, you will end up with a nice bunch of flowers.
Moreover, capers are only harvested by hand between the months of May and September and they are located in very inconvenient places (we will see later on why is that). It is, all in all, a hard work that allows no mistakes.
All parts of capers can be eaten 
We have talked about capers, but what other parts of this plant can we eat? Only few people know that caper leaves are delicious, too. They are often eaten in Sicily and in Greece, but they are not very famous outside of these areas.
It is a pity, because they truly are exceptional. They can be steamed or packed in oil and added to salads, meat or fish. Have you ever tried to bread and fry them? They taste incredible!
Another part of this plant that we can eat is the actual fruit. If capers are not harvested, flowers bloom and turn into fruits full of little seeds and with an elongated shape, i.e., caper berries.
Caper berries are also packed in oil and they are ideal for an aperitif, but also to make pasta sauces with an especially intense flavour which is salty like that of capers, but also slightly bitter.
Caper flowers are wonderful
Have you ever seen those beautiful milk-white flowers with purple stalks bearing round pouch-like parts that have a brighter colour, whose scientific name is anthers? They are capers that have not been harvested and have, hence, bloomed. 
It is a waste of capers, I agree, but they look amazingly beautiful on the walls and between cracks, don't you think? They are always located in weird places, not because the caper plant particularly likes uncomfortable spots, but due to geckos and lizards. Let me explain. 
How did a caper seed get there?
Well, somebody left it there, that is geckos and lizards which love eating capers. Caper seeds pass through their digestive systems and exit via stools that are left in the most awkward places, between cracks on the walls and fissures on cliffs.
If you go to Pantelleria, do not be surprised by the amount of lizards and geckos you see around - they found their heaven on earth with all those capers!
Size matters
It does, but the other way around. The smaller the capers are, the most precious they are. Big capers, on the contrary, are hardly sold as whole, but they are rather used to make industrial sauces and other products.
Smaller capers are also more sapid than the bigger ones and more compact. That's why it is so important to check their size: the best ones are not bigger than 7mm.
Vinegar? No, thank you
Prime-quality capers are packed in salt or in oil. Salt does not alter the sensory properties of capers and a good rinse is enough to get rid of it, while oil – which must, of course, be Italian extra virgin olive oil – is an ideal method of preservation and it does not dehydrate food.
On the contrary, vinegar alters the flavour permanently. It is a waste to pack quality products in vinegar, since it jeopardises the real flavour of capers.
PDO and PGI capers
Capers from Pantelleria have a PGI label, while capers from the Aeolian islands have officially obtained the PDO label on the 7th May 2020. Both the PDO (Protected Designation of Origin) and PGI (Protected Geographical Indication) labels are awarded to products whose features depend on the geographical area of origin.
What is the difference? According to the PDO label, production, processing and preparation must happen within that specific area, while according to the PGI label, only one of these steps has to be carried out in the area.
Capers from Pantelleria have a PGI, and not a PDO label. That means that you could find some capers that come from the island, but were processed elsewhere, or come from a different area and were processed by employing traditional techniques from Pantelleria.
La Nicchia is the only caper factory with a farm in Pantelleria
La Nicchia has been cultivating and processing capers since 1949 on the island of Pantelleria, also called the black pearl of the Mediterranean, because of the black lava.
Their mission is all about respecting and enhancing Pantelleria's culture and land which bears excellent fruits, but only gives them to those who have earned it with hard work.