Campisi Tuna in olive oil
A short introduction is due: there are endless tuna cans, tins and jars for sale, which include both excellent fish processed by hand and tuna fished with unsustainable fishing methods and packed in very poor-quality oil. Quality ranges from excellent to awful.
How come there is such a huge difference in quality between all these products? Where does this difference lie? In the ingredients, first of all, which play an essential role in high-quality products. And apart from the species of tuna, another determining factor is the fishing area, too.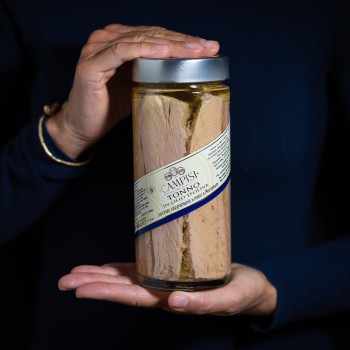 The tuna packed in oil by Campisi is processed completely by hand in the company located in Marzamemi. Marzamemi is a village home to many historical tuna fish factories, whose livelihood is thus intertwined with the preservation of seafood products.  Campisi Preserves pay particular attention to the production of tuna packed in oil very carefully, starting from tuna fishing. Tunas are only caught by angling in the Mediterranean Sea and in the Southern Ionian Sea. This rigorous processing of tuna leads to firm, compact and flavourful filets, such as these big, beautiful and fleshy filets by Campisi. They can be enjoyed by themselves, but they are also incredible together with fresh vegetables or legumes. The packaging is also so pretty that it makes for a special gift!
22,90€
The bluefin tuna packed in oil by Campisi is processed very carefully and its compact flesh is still preserved according to tradition, but using innovative facilities. This type of tuna is considered the king of the Mediterranean Sea: it is indeed a big fish that can reach three meters in length. Campisi catches tuna by angling in the Mediterranean Sea and in the southern Ionian Sea. This Sicilian company has a long experience in processing and preserving tuna fish. It was founded in the 19th century and it still is one of the last canning factories to pass on traditional know-how and techniques with great passion. These firm and flavourful tuna filets are great on a bruschetta or as condiment for pasta and legumes.
19,90€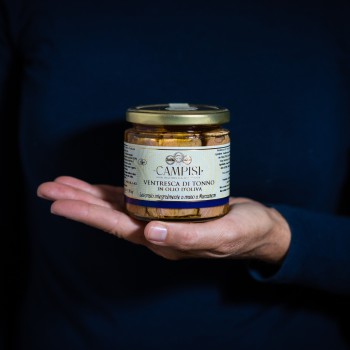 The Ventresca tuna (tuna belly) packed in oil by Campisi is processed completely by hand; it is obtained from tunas fished by angling in the Mediterranean Sea and Southern Ionian Sea, where the particularly balanced water salinity confers a rich flavour to the fish flesh. The company Campisi is located in Marzamemi. Marzamemi is a village home to many historical tuna fish factories, whose livelihood is thus intertwined with the preservation of seafood products. Here tuna belly is processed extremely carefully; it is the finest part of tuna, as well as the most tender and most flavourful one. Ventresca is packed in Sicilian olive oil; this ingredient was carefully chosen to best enhance the great artisan processing methods involved in the making of this delicacy. In Campisi's workshops, tunas are selected, plunged in fresh water to clean off blood and impurities and are then cooked with sea salt for roughly three hours. Afterwards, they rest overnight so that water can evaporate and they are ready to be packed in oil the following morning.
14,90€
Interesting facts
Food pairings
Interesting facts
The FAO (Food and Agriculture Organisation) has listed all fishing areas and has also given precise indications as to which areas are recommended for their fish quality. At the bottom of the list, we find the fishing areas no. 61, 67 and 71 from the Pacific Ocean, which were contaminated following the Fukushima disaster.
Who is at the top of the list? The Mediterranean Sea, of course! Fish from our sea is objectively speaking healthier and, unlike the fish from the Pacific Ocean, does not contain mercury, cadmium, lead etc.
Another thing to check on the label is the fishing method. It is a matter of ethics rather than a matter of flavour, but we should all be aware of the implications that our food choices have and we should select those products focusing on sustainability.
Let's talk about FAD (Fishing Aggregative Devices) and trawling (briefly, I swear). FAD are man-made devices fitted with a transceiver, which attract shoals of fish looking for food or shelter. They maximise catch rates, but they are not selective at all: they catch everything - turtles, dolphins, juvenile fish, sea birds, etc.
Another problem lies in the fact that FAD are floating objects made of plastic and waste tied together by propylene ropes that are also attached to the seabed. Do you think that fishing boats, once they are done fishing, retrieve their tools? Of course not. They leave them in the sea, resulting in animals getting stuck in them or suffocating. And they don't seem too worried about marine pollution either.
Trawls are equally devastating for the ecosystem. They reach the seabed and drag everything along the seafloor: seaweed, corals, protected or non-marketable marine species, sharks, dolphins, turtles etc. They completely destroy sea habitats.
Do you think that these fishing boats behave better than the other ones? Not at all. 47% of the Great Pacific Garbage Patch - the plastic waste floating island almost as big as Canada - contains fishing nets and tools. There is nothing sustainable here. 
An alternative does exist, though. Sustainable fisheries respecting the environment must be supported. We can raise our voices by making the right choices. We cannot keep funding fisheries that are destroying the sea (any longer).
We at Italy Bite do not compromise on this issue. That's why we have chosen the most virtuous Sicilian tuna producer that has been active for 5 generations. Campisi tuna is an absolute guarantee. It is delicious, healthy, exclusively caught by angling only in the Mediterranean basin and fully processed by hand – we reach the highest quality standards here. 
Well done to all of you that made it to the end of this lecture; now you deserve four fresh, easy and quick recipes that can enhance the flavour of the gem of our sea - oil-packed tuna.
Food pairings
Tuna-stuffed tomatoes
They are tasty and light and they can be prepared in advance. Some people use mayo, but I prefer using Greek yoghurt. For the stuffing, mix in a bowl Campisi tuna, anchovy filets, capers, Greek yoghurt, parsley, chives and a little lemon juice.
You can eyeball the measurements, according to taste. Be careful with anchovies and capers, though; add them little by little and taste as you go. Tomatoes should be round and perfectly ripe. Remove the seeds and place them upside down for at least 20 minutes before stuffing them.
Niçoise salad
Don't be fooled by the name – the Niçoise salad is actually a main course. Hard-boiled eggs, boiled potatoes, tuna, anchovies, olives and mixed vegetables make a perfectly balanced, fresh and mouth-watering dish. Apart from cherry tomatoes, lettuce and spring onion, you can also add boiled green beans, radish or artichokes, depending on the season. 
Spaghetti with tuna, finely chopped pistachios and lemon zest
Here we have an elegant and impressive pasta dish that is actually very easy and quick to make. You just need the right ingredients, like Campisi's tuna.
Sauté a clove of garlic in a big non-stick pan and add tuna packed in oil. Break it with a spoon, add some salt and pepper and let it sauté for a couple of minutes. Drain the spaghetti 2 minutes before the package time and let it finish cooking in the pan with tuna. Add grated lemon zest and a generous amount of finely chopped pistachios and plate the dish.
Poke
This dish is very trendy right now, and rightly so, because it is delicious, light and also healthy. It dates back to 400 AD, when Polynesians first reached the coast of Hawaii; its name, which should be pronounced as poh-kay, actually means to slice fish.
We like to replace raw tuna with Campisi tuna which, I think, makes the dish even more delicious, since the flavour of tuna in oil perfectly balances the flavour of all the other ingredients.
Ingredients can vary greatly: from a simple bowl with tuna, avocado, black rice, cucumber and edamame to more complex bowls with cherry tomatoes, almond flakes, red onion, sriracha sauce, teriyaki sauce, seaweed, radish, baby spinach, sesame and so on and so forth.
I've given you many recipe ideas, now it's up to you to go and make some. Remember: when we buy something, we are sending a message, we are telling something about ourselves, our values, our tastes and our priorities.
Let's stop supporting and funding fishing methods destroying the sea once and for all. There is an alternative: Campisi tuna is the living proof of it.

Try our tuna in olive oil with: