The Treccani encyclopaedia defines Pici noodles as "a type of pasta made with water and flour, rolled by hand, similar to Spaghetti noodles but softer, usually dressed with oil, garlic or bread crumbs, a traditional dish from Siena."
However, if we want to talk about Tuscan Pici noodles, we have to briefly mention the Tuscan peasant cuisine, i.e. all those dishes born out of necessity, which then went on to become the cornerstone of local culinary tradition. That's why stale bread was usually repurposed to make leftover recipes which then became some of Tuscany's most famous dishes (Panzanella, Pappa al pomodoro, Ribollita). Following the same logic, an utterly exceptional fresh pasta was created out of this basic dough made of flour and water.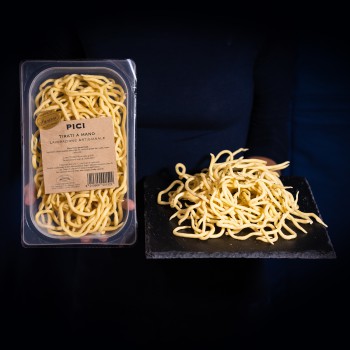 Tuscan pici noodles are made from a basic dough of peasant origin. they look similar to spaghetti, but they are actually completely different: they are thicker and uneven.Pancini prepares pici noodles by rolling them one by one exclusively by hand, as tradition dictates. Only by doing so can you get the best out of their shape and texture, which go extremely well with very flavourful sauces. Pici noodles are an ancient type of pasta, the earliest evidence dating back to Etruscan times. As a matter of fact, pici originate in Tuscany, and to a certain extent also in Northern Latium as far as Rome. However, pici noodles are listed as a traditional agro-food product (PAT, official certification for regional foodstuff) in the hills between Siena and Montepulciano as well as in the Grosseto area. They go extremely well with: Sausage and bolete mushrooms Pecorino cheese and pepper Chianina beef ragu
9,90€
Pici noodles are one of those recipes born out of necessity that are commonly found in traditional Tuscan peasant cuisine. To make these noodles, you only need durum wheat semolina, water and, of course, skilled hands that are capable of pulling them one by one by hand. Patience is required when you make them and when you cook them, too. Cooking time is 22 minutes, since this pasta is sturdy and thick, but believe us, they are worth the wait.   Which sauce pairs best with Pici noodles? If you want to savour these noodles the traditional way, you should pair them with Aglione garlic sauce. Try them with a ragout sauce, perhaps a Cinta Senese pork ragout, too, or with a veggie sauce with bell peppers, zucchini, artichokes or Bolete mushrooms. They are also excellent with cacio e pepe sauce. To sum it up, Pici noodles taste amazing all the time!   The Antico Pastificio Morelli pasta factory has been making prime-quality pasta since 1860. This pasta is exceptional, because they use durum wheat semolina that still contains the wheat germ, i.e., the core of the grain, which lends the pasta incredible flavour and scent. They also employ artisan techniques, extruding the pasta through bronze dies, stretching it out by hand and letting it slowly dry at a low temperature. That's why this pasta is truly one of a kind. 
6,90€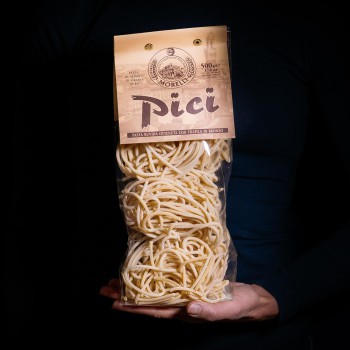 Interesting facts
Food pairings
Interesting facts
Whenever we talk about Pici noodles, listing off their features only scratches the surface. It wouldn't be enough to simply state that these noodles are 20 cm long, of a cylindrical shape, with an approximately 3mm diameter, flexible and coarse to the touch.
The most important thing to mention about Pici is their character. Pici are not a delicate and refined food: this pasta shape is ideal for hearty, intense and traditional sauces with an honest and genuine flavour and no frills.
Tuscan Pici noodles are extremely satisfying: they are rich and hearty - a forkful of pure pleasure. 
Only by hand
Pici noodles are exclusively made by hand, one by one. That's the main difference between Pici and Bigoli from Veneto and Lombardy, which are, instead, bronze-drawn.
Once the dough has rested, it is rolled out, so that it is around 1 cm thick, and then cut into thin strips. Then each Pici noodle is manipulated by hand to make it smooth, thin and uniform.
This process requires a long time and a lot of patience; there will never be two identical Pici noodles. Actually, this process is the opposite of mechanised production, where everything is quick, identical and serial. That's what it's so good about Pici: you can actually taste real Tuscan craft. 
Eggs: yes or no?
According to tradition, there should be no eggs in Pici noodles. Obviously, back in the days eggs were too precious to be "wasted" for pasta. People used to take what ingredients they could get their hands on: a handful of flour, the water from the well and a pinch of salt. And last but not least, hands that could knead.
Nowadays, many manufacturers add eggs to their dough to make it softer and more elastic. It also depends on the geographical areas: for instance, in the Valdarno area Pici noodles are called Lunghetti and they are made with eggs.
Tuscan identity
Even with different names and slight variations, they are still Pici noodles. Pici, which are widespread all over Tuscany, originally come from Val di Chiana, Val d'Orcia and the border area with Umbria to the East and Lazio to the South. That's where they originated, but they quickly gained renown in the whole region and were paired with several local traditional sauces, as we will see later on.
Pici were included in the PAT (traditional agri-food products) list. These products are acknowledged as PAT by the Ministry of Agricultural, Food and Forestry Policies, when they have been "obtained through methods of processing, preservation and aging that have consolidated over time and are the same across the whole territory, by following traditional rules, for at least twenty-five years."
Pici noodles date back way more than 25 years! Although it is difficult to trace back their exact origin, we have good reasons to believe that Pici noodles already existed in the Etruscan age.
The first proof of their existence dates back to 473 BC and is located in Tarquinia in the Tomb of the Leopards, which was declared a World Heritage Site by Unesco in 2004. Some scenes of a symposium were depicted here, in which we can see servants bringing bowls full of a long and irregular pasta shape to the table. What if they were Pici noodles?
Where does the name "Pici" come from? There are several theories: some people believe that it comes from the name of a village close to Arezzo, San Felice in Picis, where they are particularly loved; other people reckon that this name indicates the way in which they are made. Pici stick to each other (appiccicarsi in Italian), which is probably how they got the name pici over time.
Food pairings
The best sauces for Tuscan Pici noodles
Pici all'Aglione. It is the most common sauce in Siena and Val di Chiana. 'Aglione' is a special garlic type, which makes this sauce probably not suitable for delicate palates. That being said, when it is properly made, this sauce is truly pleasant to the palate, fresh and not heavy at all. Doses may vary, but there should always be one part of garlic for every part of tomatoes. 
Pici with breadcrumbs. A leftover dish: stale bread is crumbled and is tossed in a pan with oil and, if you fancy it, some red hot chilli pepper. It is a recipe from Montepulciano: the thick pasta creates a nice contrast with the crunchy sauce.
Pici with ragù. This dish is served throughout the whole region. Depending on the geographical area, Pici are dressed with a ragù sauce made from wild boar, duck, pigeon etc.
Pici with mushrooms. The most delicious, autumnal dish. Tasty, hearty, flavourful - good for the belly and the soul. 
Pici cacio e pepe (cheese and pepper). We can clearly see some influences from the Lazio cuisine in this dish. It is a nutritious, rich, tasty, intense and sapid dish 
Pici are the quintessential, Tuscan fresh pasta. They embody traditional peasant cuisine and their fame has now exceeded regional borders. It is nice to see how such a traditional recipe can be cooked in so many variations, while never losing its identity. That's exactly how Pici noodles are: they may be eaten in different ways or in different places, but the main thing is that they are always eaten with pleasure.

Try our pici noodles with: